At a Glance
Wendy lived with her daughter in a two story house. She had always been independent and though she did need help with some daily chores, and had become increasingly forgetful, having a stranger in the home to help out was often a burden. As Wendy's daughter Claire was herself struggling with MS, she couldn't take on her mom's care alone. Both of Wendy's children had begun to realize that perhaps their mom needed 24/7 care, as she had almost fallen several times when getting up to go to the bathroom at night. 
For two weeks, Wendy's caregiver and Claire had noticed a sudden change in her mood. While Wendy's confusion had been deteriorating slowly, this was a sudden spike in irritability, and seemed to have come from nowhere. 
Challenges
Wendy's declining condition called for a review of her care hours, but Wendy was resistant to accept more care. When a sharp change in her mental state began suddenly, Wendy's children along with the care agency did not understand the source of this change, and her children felt helpless. 
System Findings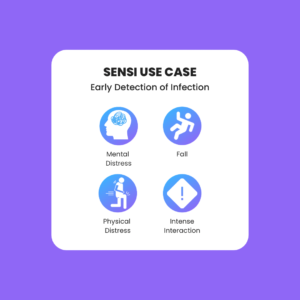 Sensi's comprehensive status overview detected the following. 
A sharp increase in Mental Distress notifications and Cognitive Anomalies 

A spike in nighttime activity in the bathroom

A rise in Intense Interactions within the home
Data Driven Decisions
Suspected Infection Detection
The increase in Mental Distress and Cognitive Anomalies, paired with a spike in bathroom activity pointed to the possibility of delirium as an outcome of a UTI, Sensi's care recommendations suggested performing a UTI test.
Fall Risk Assessment
Sensi's data pointed to increased fall risk from nighttime bathroom activity and Sensi's care recommendations suggested increasing night care hours, placing a light in the hallway leading to the bathroom, and lowering the bed. 
Impact
The agency passed on the care recommendations to Wendy's family, and a UTI check was performed promptly. The test was positive, and care was administered swiftly. However, the fall risk measures were not implemented and Wendy fell on the way to the bathroom at night and was not able to get up. Following the fall, Wendy's family implemented Sensi's recommendations, and added care through the night based on the data indicators. 
Sensi's data was able to detect an infection and catalyze swift action, as well as provide insight and guidance into the proper steps to take in order to avoid future risk. This meant Wendy was finally getting the care she needed, and Wendy's kids could rest easy knowing their mom was safe, in the comfort of her own home.