At a Glance
Albert lived alone and did not have much companionship as his children lived out of state. They were a little worried about their dad living all alone, so that was why Albert's kids decided to install Sensi. This way they had peace of mind knowing that if anything started changing with their dad, they would know about it.
Albert also had a caregiver come in 3 times a week for several hours, just to do some light chores and keep him company.
Challenges:
While Albert was generally independent, Sensi's system began picking up a few Difficulty Performing Task notifications and instances of physical distress, and the system suggest reviewing Albert's home for any safety hazards.
System Findings:
Sensi's system picked up a fall and difficulty performing task, as well as a call for help. A real-time alert was sent, followed by an insight.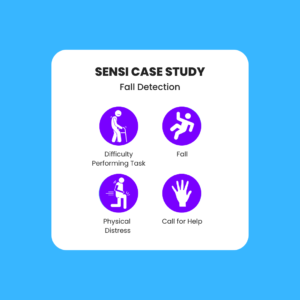 Data Driven Decisions:
The agency received the alert and contacted Albert, when he did not answer the phone, EMS was sent to his house. EMS found Albert on the floor, as he was unable to reach the phone, he could not call to get help.
Fall risk assessment was recommended to prevent future falls.
Evaluation of transfers recommended.
Care plan review for increased supervision.
Review of footwear.
Equipment review recommended.
Medical evaluation was performed.
Impact:
Sensi's presence had a direct impact on Albert's health and wellbeing, both in the immediate moment of an emergency and in the long run.
When Albert fell, Sensi was there to make sure he had swift and efficient help, that otherwise could have taken hours or even days to come. In these circumstances every minute is critical in order to prevent the risk of pressure sores, pneumonia, dehydration and in some cases even death. The swift response also contributed to Albert's feelings of safety and security, as well as the peace of mind of his children knowing that if something happens to their dad, someone is there.
In addition, Sensi's analysis and recommendations helped trigger action that will prevent future falls by initiating environmental and medical reviews, as well as a care plan reassessment.